Gemini is one of the most popular cryptocurrency exchanges in North America, and it's set to become even more useful with a recent announcement that it has added support for Gala Games (GALA), Render Token (RNDR) & More Tokens. Gemini will be rolling out this feature over the next few weeks as part of its efforts to make trading easier for customers who want quick trades without having to go through lengthy sign-ups or fund their account.
Gemini, a cryptocurrency exchange platform, has added support for Gala Games (GALA), Render Token (RNDR) and more tokens. This is the first-ever addition of new tokens to Gemini.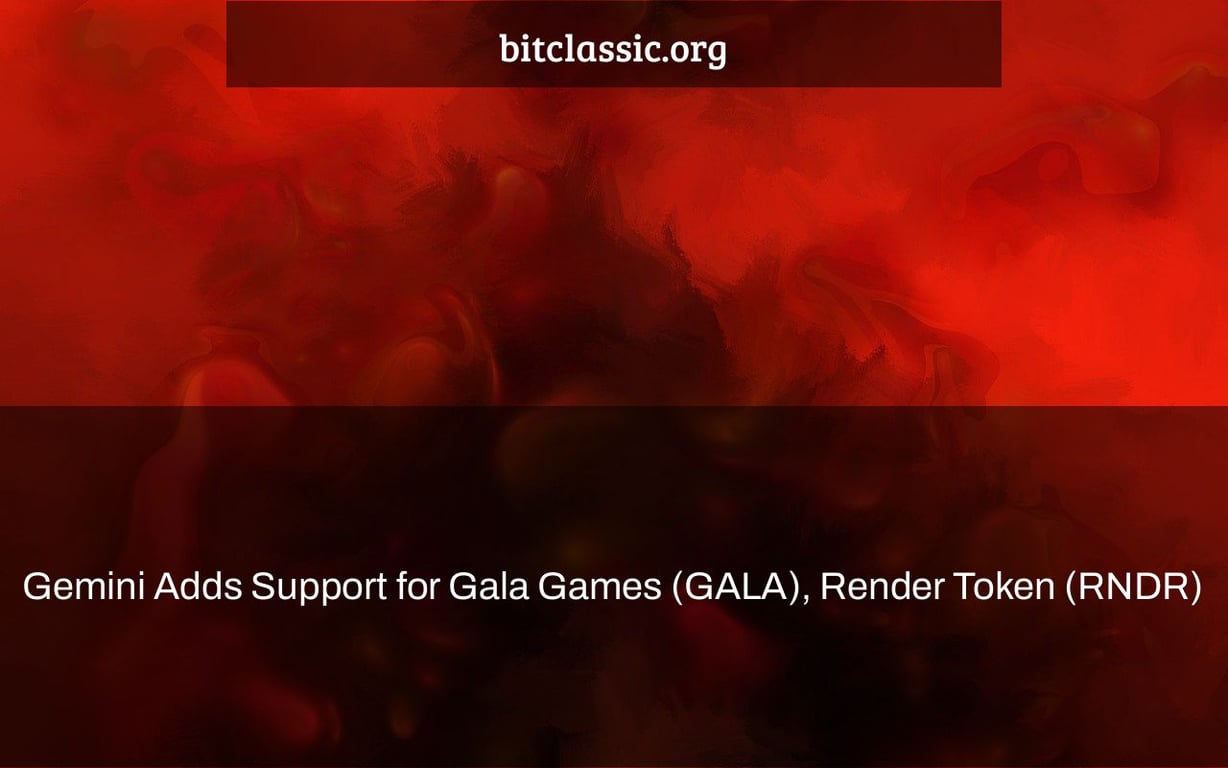 Gemini, one of the largest authorized cryptocurrency exchanges in the United States, has always been on the hunt for the most promising cryptocurrencies. The platform, which is controlled by the Winklevoss twins, recently released a blog post announcing support for a number of tokens, including a set of DeFi, NFT, Metaverse, and infrastructure tokens lead by Gala (GALA).
Spell Token (SPELL), Magic Internet Money (MIM), Render Token (RNDR), Merit Circle (MC), Ethereum Name Service (ENS), Dogelon Mars (ELON), Civic (CVC), and Keep3rV1 are among the other cryptos added to the exchange (KP3R).
Trading for all tokens will be introduced shortly, according to the statement, with the API/FIX and ActiveTrader apps being the first to launch. The tokens will be paired with USD first, and then they will be available on the Gemini Mobile App and website. They will then be matched against a variety of fiat currencies, including the US dollar, the British pound, the euro, the Canadian dollar, the Australian dollar, the Hong Kong dollar, and the Singapore dollar.
Gemini now officially provides trading and custody for over 70 cryptocurrencies, as well as 15 more tokens that are now exclusively accessible for custody, thanks to this newest update to its platform. Meanwhile, the exchange will keep an eye out for any new tokens that might provide traders with fresh chances.
What is the meaning of Gala (GALA)?
GALA is a utility token based on Ethereum that was established using the project's ERC-20 token concept. It is a Gala Games Ecosystem native cryptocurrency that enables users to play games and earn GALA by supporting the ecosystem. The project's ecology has gone a long way, but there's still a lot of work to be done.
Town Star was the first game ever produced inside the Gala Games Ecosystem, and it is a game with an intriguing reward structure. In GALA, the top 100 players get awarded, regardless of who they are. In the meanwhile, GALA serves as a non-refundable utility token that may be used as a means of trade between members of the ecosystem.
Users who have GALA in their hands may acquire NFTs or other assets. The goal of the project is to build a rich environment where users may play games, gain in-game objects, and retain ownership of those items. Unlike existing centralized games like Minecraft and World of Warcraft, where players' stuff are lost if they are banned or the platform goes down, these games would let users to maintain their goods in the form of NFTs.
They may then be purchased, sold, traded, and even even moved to another game if they are compatible. This introduces a new kind of game to the market, one that bridges the gap between decentralized finance and decentralized gaming. Instead of considering gaming as a simple (and often pricey) pastime, it allows gamers to earn from their favorite games.
Visit our Investing in Gala Games page for more information.
Watch This Video-
The "gala token address" is a website that lists the address of all tokens. Gemini has added support for Gala Games (GALA), Render Token (RNDR) and more.
Related Tags
gala token price
gala coin
gala coin exchange
render token price prediction
gala coin news