Realms of Ethernity is a AAA blockchain game focused on the exploration, discovery and growth in an online gaming world. It's also one of the first games built with ethereum smart contracts that does not require any centralized servers to function.
The 'Realms of Ethernity' is a AAA blockchain game that has raised $5M from DIG International. The game provides players with the ability to create their own virtual world and collect in-game items.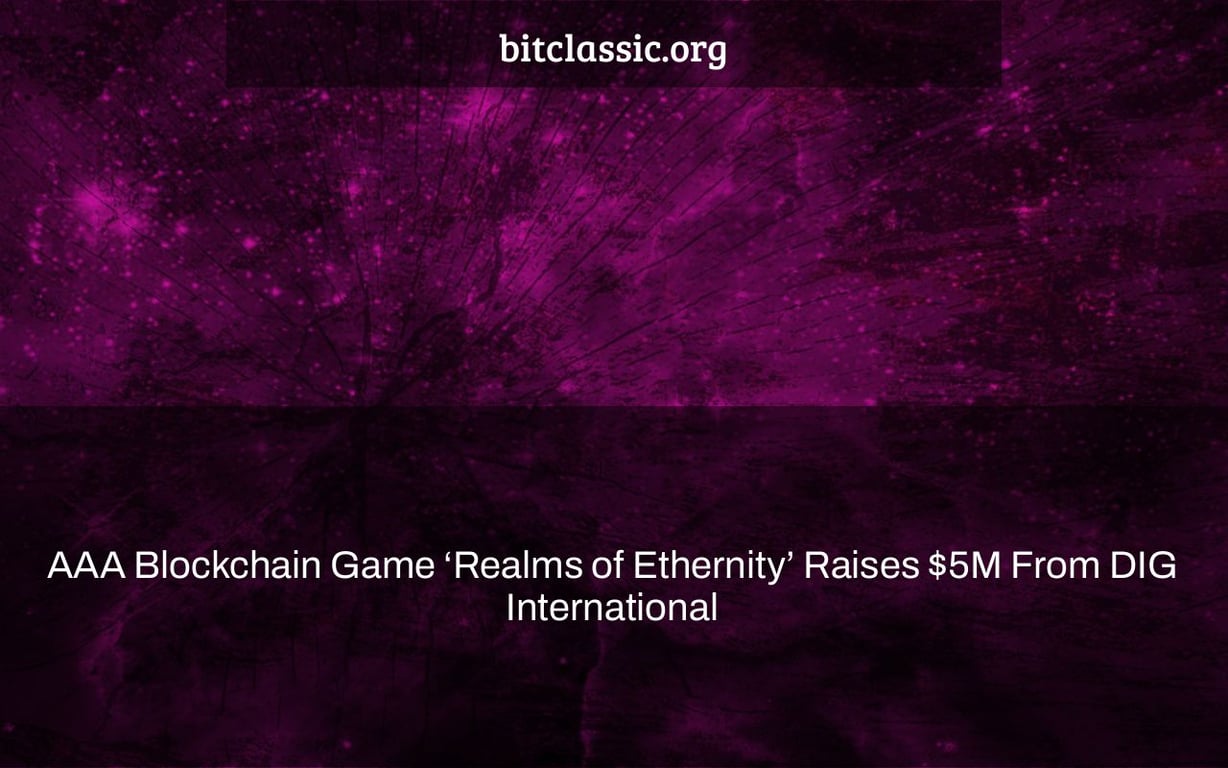 GAINESVILLE, FLORIDA – December 19th, 2021
— Decentralised Investment Group (DIG) International, a Dubai-based investment group, has secured $5 million in a private token sale for Realms of Ethernity, a new MMORPG metaverse game on Polygon. The investment follows a successful public pre-sale that garnered more than $5 million.
The money was put into Realms of Ethernity's RETH token, which serves as the metaverse's governance and staking token. RETH holders will have control over the project's treasury, grant distribution, and roadmap and product choices. The token may be staked and used to obtain a share of the platform's fees.
RETH will be available for purchase in a public sale on December 20 at 2 p.m. UTC, which will continue 72 hours and end on December 23. The combined funds will be used to greatly expand the team and develop infrastructure to accommodate millions of players in the AAA-rated MMORPG.
Realms of Ethernity is a Play-to-Earn MMORPG that also serves as a "meta-metaverse," serving as both a fun RPG game and a game-of-games that hosts other metaverses. By working with or purchasing current companies, RoE will be able to add the metaverses of other games. The game aspires to be AAA-quality and to attract millions of gamers. For these reasons, the team picked Polygon as the blockchain layer, which is a fast and scalable Ethereum Layer-two platform.
Hundreds of missions, villages, and dungeons abound in the RoE universe, making it a true metaverse with all the trappings of a thriving in-game economy. Players may participate in PvE activities like as missions and dungeons, risking their life in order to gain valuable NFTs and gold coins. They may go into towns after raiding to trade with other gamers and play games like poker or blackjack.
Blue Monster Games, well known for its blockchain game Kart Racing League, is behind Realms of Ethernity. DIG International is considering investing in the studio in addition to the private sale.
"We're ecstatic to have such strong backing from DIG." Individual funds completing full rounds is very rare, so it's a clear indication of their enthusiasm and support for Realms of Ethernity," stated Joseph Rubin, Co-founder and CEO of Blue Monster Games. "The money will be critical in transforming RoE into a blockchain gaming hit," says the company.
Decentralised Investment Group's owner, Haydn Snape, adds, "We're incredibly delighted to be sponsoring this amazing initiative and team." "We will be making a series of strategic steps in the coming months, starting with expanding our portfolio into blockchain gaming."
Realms of Ethernity (RoE) is a massively multiplayer online role-playing game created by Blue Monster Games, the same company that brought you Kart Racing League. RoE is a "meta-metaverse" combining many different games within its complex ecology, as well as an intriguing virtual world of treasure, land, and PvP combat, built on Polygon. The RETH governance token powers the game, allowing the community to assume control of the project.
Blue Monster Games Inc. is a Florida-based company committed to developing video games that use NFT technology. These gaming initiatives are built on a play-to-earn paradigm, which means that gamers may earn money while playing.
Kart Racing League is created by Blue Monster and contains 3D NFT characters that can be utilized to play a kart racing game and collect prizes for each race they win. In addition, the team is working on a variety of initiatives that will be disclosed in the coming months.
Contacts
Manager of Marketing
Krishna Bala (Krishna Bala) is
Watch This Video-
The "decentralized saas" is a decentralized platform that allows users to play AAA blockchain games. It has raised $5M in its ICO from DIG International.
Related Tags
cloud computing crypto
decentralized cloud
ethereum cloud computing